ezHR9 - HRM Software
Human Resource Management Functions: Employee Profile, Contract, Bao Hiem, Timekeeping, Payroll calculation, KPI evaluation, Recruitment and training management, Leave Portal, view salary slip ..
Meeting the needs of many industries such as Manufacturing, Garment, Thickness, Packaging, Electronics, Mechanical, F&B Chain, Restaurant – Hotel, Construction, Retail, Banking
Online version available
Hotline
Free Trial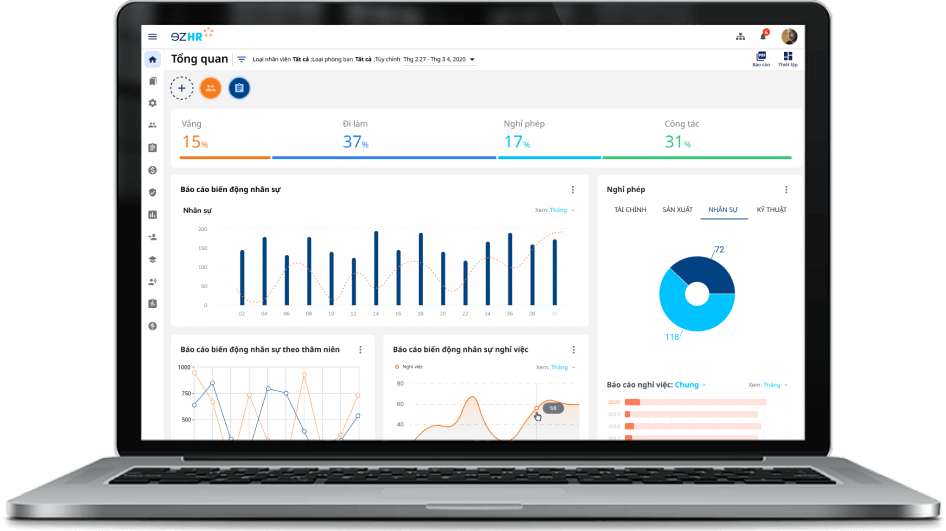 Save time and increase management efficiency
Save time and money
Bringing technology into human resource management helps customers improve business efficiency, save time and reduce waste.
System management
Personnel information management
Insurance management
time attendance management
salary management
personnel assessment management
recruitment management
Effective management
Manage more efficiently through automation, eliminating paperwork. Reduce data entry errors. Easy to use for HR department.
training management
Hrportal
HRM Report
Linh hoạt trong việc xây dựng các loại báo cáo, đáp ứng yêu cầu riêng của từng doanh nghiệp
Xây dựng sơ đồ tổ chức
Xây dựng chính sách đãi ngộ
Dự báo nguồn nhân lực
Họach đinh đội ngũ kế thừa
Định biên lao động
Phân tích chi phí
automatic time attendance management
Meal Management
Manage and control people in and out
Manage and control vehicles
create a competitive advantage
– Use the right information to operate the business effectively and create a competitive advantage.
– Applying technology to HR processes and control processes, helping to operate the business better & easily expand the scale of personnel.
– Reduce costs – Reduce losses.
– Effective human resource management in the corporation model needs centralized management.
– Save time when operating the HR process.
– Help businesses feel secure to apply the Labor law correctly, reducing the workload for the Legal department.
– Analyze data to predict early retirement intentions.
– Reduce errors in the salary calculation process – Reduce the loss of employee salary fund.
– HR4.0 Trend: Applying mobile technology to work more freely & efficiently.
– Easily measure desired goals & detect problems early.
– Provide information directly to employees during work, helping to improve team morale and cohesion.
– Improve the brand image of the business in the eyes of Customers and Employees, through the application of technology in management.
Please contact us for more details on how to achieve these benefits.
PRICE LIST
ezHR9 Human Resource Management software is divided into modules, depending on the needs of businesses, they can buy each part in accordance with the company's budget.
OUR Customers
For more than 12 years, customers appreciate and trust the software – the secret of successful companies. More than 1000 medium and large companies have trusted our Human Resource Management software.
Please contact us so that we can provide you with a suitable price list.